Once upon a time there was a little boy named Johnny. Johnny was always coming home late from playing outside.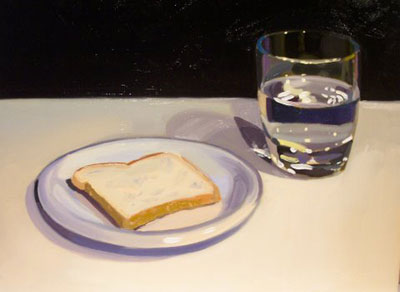 One day his mom and dad had enough of it. They said, "Listen, Johnny! You never come home in time for supper. Your supper is always getting cold. We always have to warm it up for you, and this has got to stop. The next time you come home late, we'll give you bread and water. That's all. No butter, no peanut butter, no jelly; just plain bread and water."
Well, the very next day Johnny came home late for supper again. He walked into the house and sat down at the supper table. His mom and dad, who had plates with meat and potatoes and vegetables in front of them, didn't say a thing. They quietly gave Johnny a plate with some bread and a glass of water.
Johnny was crushed. He never thought his mom and dad would do such a thing. How could they? But he was wrong.
Johnny's father waited for the lesson to sink in. Then, silently, he took his own plate full of meat and potatoes and vegetables, and put it in front of Johnny. Then he took Johnny's plate and put it in front of himself.
Johnny is now a man. And not long ago someone asked him, "Do you know what God is like?" Johnny said, "I've known it all my life. I've known it ever since that night when my father switched plates."
Each of us is called to love and serve God with all of our being and direct our whole lives to God, which includes our actions and choices. As a result, we should view the rest of Jesus' teachings as helping us to love and come closer to God.  We are to show God's unceasing love for all people, which then enables us to see more fully God's presence in the world.
If we can love God with our whole being – heart, soul, mind, and strength – everything else in our lives will flow forth from there.