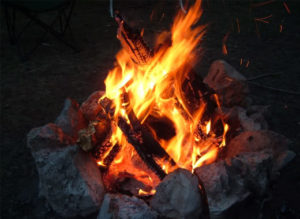 I was looking through some old photos of our past family camping vacations not too long ago. It was fun looking back on all of those vacations that we took, many to some incredible places with some amazing campsites. As I was looking at the pictures of all of us sitting around the campfire at night, I fondly remember lighting all of those fires – and keeping them going well into the night.
If you've ever been around a campfire, you know that once the wood catches fire, there is a need to poke the wood every so often in order to keep it burning. Sometimes you even need to adjust the position of the logs so that the entire log has a chance to burn. And that is a great analogy for our spiritual life as well.
As St. Paul wrote, each of us must "stir into flame the gift of God." (Timothy 1:1-8) Sometimes, we become stuck right where we are. We become comfortable in our faith, almost to the point of non-action. We go through the motions and do what we've always done, but we don't go any farther. We become stagnant, complacent, and our fire doesn't burn completely – and we need to be poked. We need to get re-energized, renewed and redirected so that we can continue to follow our baptismal calling and mission to proclaim the Gospel to the entire world.
Let's not hide our lamp under a bushel basket, but spread our light for all to see. Let us use our gifts to serve our Lord and our neighbor. The measure with which you measure will be measured out to you, and still more will be given to you.
Consider yourself poked!