On a cold January day, a man wearing a t-shirt and a ball cap walked into a busy train station in Washington D.C., opened his violin case and began playing. Four minutes went by and finally one man realized there was a musician playing, so he slowed down for a moment to listen but then carried on. After about eight minutes, the violinist received his first dollar bill, tossed into his hat on the floor by a woman who never even looked in his direction. Children would stop to listen, only to be quickly pulled away by their rushing parents.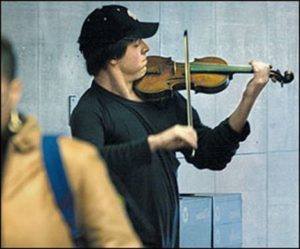 The man played six pieces of music by Bach for about 45 minutes and during that time a little over a thousand people walked by. Seven people stopped to listen. Twenty-seven people gave him money, totaling $32. When he stopped playing no one applauded, no one even noticed.
What no one in the train station knew that day was that the man playing was world-renowned violinist Joshua Bell, a child-prodigy who only three days earlier had played the same pieces of music for a sold-out show where the cheap tickets were $100 a seat. But this day, standing in a train station playing on a violin that was worth $3.5 million dollars, only a few stopped to listen while the others didn't even notice him.
This was an experiment done by the Washington Post newspaper a few years ago and it raises a question: can we notice or recognize something beautiful if it is not in the places we expect it? Could we notice a beautiful painting that should be hanging in a museum, but instead sits on the ground at a garage sale? Could we recognize beautiful music if it wasn't on stage or coming through our iPods and radios?
One day, a man and his friends came into town. They decided to go to church, and this man got up in front of the whole church and began teaching the people there. No one really knew who he was but it says they were amazed by his teaching. But that was all. They liked it. It was nice. Different than what they usually heard and a nice change of pace, but nothing life changing. They were like those who gave $1 to the violinist. It was nice music, but not worth much of their time. But then suddenly, there is a commotion at the back of the church. A man stood up and was mumbling something to himself. As he stumbled up to the front, what he was saying got louder, "I recognize you. I know who you are. You're the Holy One of God."
Jesus had come to teach in this synagogue and no one recognized him. No one knew who he was. No one really stopped to take in what he was saying; no one except this man who was possessed by an unclean spirit. He was the only one who recognized Jesus, and that makes me wonder: will you and I recognize Jesus when he comes into our life? Do we recognize God in the world? Do we even know how to recognize God in our lives and in the world outside these church walls? Or do we keep walking past God as if God is a street musician that no one really cares about or even listens to?
Now there's a good reason why we don't recognize God in the world –because it is risky. If we learn anything from today's Gospel (Mark 1:21-28), it's this: when we do recognize Jesus, it agitates us. It disturbs us because it threatens our normal way of life. "What do you have to do with us, Jesus of Nazareth? Have you come to destroy us?"
And the answer…is yes. Jesus has come to destroy us…to take the evil in our life and tear it out. To destroy the part of us that has become possessed: possessed by anger or bitterness, by addiction or apathy, by greed or jealousy, by hate or prejudice. Jesus has come to expose all those things that possess us – and say, "Come out!"
Yet the temptation for many of us is to ignore these things – to not recognize Jesus in it. To walk on by as if it doesn't exist. But if we can see it…if we can recognize it as God speaking to us, then and only then will we be able to change.
Do we know how to recognize God in our lives? Or do we keep our heads down, avoiding eye contact and walking past God like so many walked past that famous violinist? It's risky to look for God in the world because it will likely expose something about ourselves – and that terrifies us. But Jesus knows and tells us that it is only when we expose something that it, and us, can truly be healed. Let the healing begin!