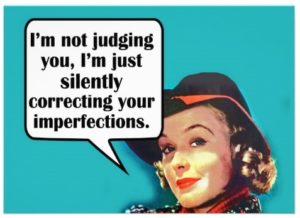 For some reason, I woke up this morning not praising God, but judging others. You may think that this is difficult because I haven't even "seen" anyone yet. But for some reason, I was judging these people in my mind. I'm not really sure where this comes from, but this happens far more than I care to admit.
I often get this thought in my head that people don't fit into the mold that I am trying to put them into. As I sit here writing this, I realize how terrible this action is. I am trying to make these people something they're not. I am forcing my rules of living onto others, and they don't even know that I am doing it. I am judging people according to my thoughts and beliefs. I am finally starting to realize when I am doing this, and I try to realign my thoughts as soon as possible. I was not placed on this earth to judge. That is not my job. God will judge – not me! My role is to love and serve the Lord and others each and everyday. I shall not judge because I have many obstacles of my own to overcome. I need to constantly pray for the strength to overcome my weaknesses and become more loving and caring.
It all comes down to realizing that I am not the one who is in charge. It is not about me and it's certainly not how others should conform to my thoughts, actions and preconceived notions. I will continue to pray for the knowledge and understanding to accept this reality of God being the one who has control of every situation. By placing my life in God's hands, I will be totally free of thoughts of judgement toward others. I will be able to love others for who they really are, and not what I expect them to be. I will be fully accepting of their gifts and talents and strive to live better because of them.
Help me, Lord, not to judge others – but to serve you with my whole heart. Amen.