More than 19 million Americans have this, and it causes difficulty in some area of their lives. What is it? It's a phobia. A phobia is an excessive and irrational fear reaction. If you have a phobia, you may experience a deep sense of dread or panic when you encounter the source of your fear, whether it is of a certain place, situation, or object. Unlike general anxiety disorders, a phobia is usually connected to something specific. Here are a few of the most common phobias:
Altophobia: Fear of heights.
Arachnophobia: Fear of spiders.
Claustrophobia: Fear of confined spaces.
Arachibutyrophobia: Fear of peanut butter sticking to the roof of the mouth.
Theophobia: fear of God.
Ecclesiophobia: Fear of church.
Homilophobia: Fear of homilies. (Maybe even Deacon Allen's homilies!)
Testophobia: Fear of taking tests.
Phalacrophobia: Fear of becoming bald.
Chaetophobia: Fear of hair (other people's hair).
Xenophobia: Fear of the unknown.
Ephebiphobia: Fear of youth (teenagers).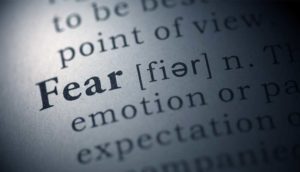 There is an old proverb that goes something like this:
Fear less, hope more; eat less, chew more; whine less, breathe more; talk less, say more; hate less, love more; and all good things will be yours.
Notice, "Fear less" is at the top of that list of what needs to be done if all good things are to be ours. Moreover, "Fear less" was high on Jesus' list of things you need to do in order to experience wholeness of life.
Jesus wants you to know beyond all doubt that you and I are important to God; that God wants to be in a relationship with us. You may turn on the busy signal if you wish, but God never will do that. We can always count on God's constant care for us.
Each one of us is called to go out and serve those in need, the most vulnerable in our society – and that can be scary. We are often afraid to speak the truth, to stand up for what is right, or afraid of those who might try to hurt us. We might be afraid to try new things, or meet new people who are different than us. But Jesus promises us that God is in control: "Not one sparrow falls to the ground without your Father's knowledge." Jesus reassures us of the value that God places on us. You and I are worth more than many sparrows; and we are also precious in God's sight. With God by our side, we have nothing to fear.