A little more than a week ago, Stephanie and I took a group of high school teens from our parish to NCYC, or the National Catholic Youth Conference in Indianapolis, Indiana. Together, we were part of the 25,000 teens in attendance for this three day conference.
Our teens heard some of the top Catholic speakers and musicians as they played and prayed throughout the weekend. And they were all in agreement that the Friday night adoration was extremely powerful and moving. (Try to imagine 25,000 + in complete and total silence before the Blessed Sacrament. It was a true spiritual experience.)
The theme of the conference was "Called." And the message was simple: each of us is being called by God for greater things. This is also the message of our Gospel today (MT 4:18-22).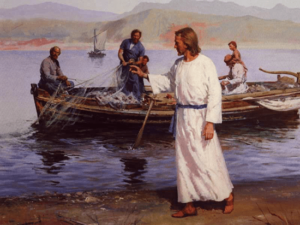 Andrew, Simon, James and John were fishing – just doing what they always do – when they received the call from Jesus. They were asked to follow Jesus and be fishers of men.
We too, are fishers of people. Each of us is also being called to do great things in God's name. We are called to follow Christ and to then lead by example through loving and serving others. We are called to be saints so that all may see, through us, the goodness of God.
As our teens learned, each of us receives God's call every single day, right where we are. This can be a scary thing. But we need to remember that we never fish alone; for we are always accompanied by the One who constantly calls us to do great things in His name.